Welcome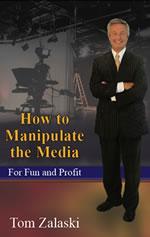 AVAILABLE NOW!
HOW TO MANIPULATE THE MEDIA FOR FUN AND PROFIT
The book your PR department MUST have!

The book you need if your company cannot afford the services of a high-priced public relations firm
Hello! Thanks for visiting!

I truly hope that one of my many media services fits your needs. I've lived in front of cameras, microphones, crowds, at podiums and on stages for 30 years. Some people might call it a career, a profession or a job. I call it being paid to have fun!
Your search for a speaker, emcee, narrator and media consultant is over! I invite you to look at the many media services I provide and look forward to hearing from you!
A special welcome to you if you are here to find out about my newest book, How to Manipulate the Media for Fun and Profit. My book is your step-by-step guide to success. You cannot fail!
E-zine Articles
09/19/2016
The 10 Things To Know To Put On A Benefit Fundraiser
You need to put on a benefit fundraiser for a friend or loved-one with cancer or who has met with misfortune and you have no idea how! This is the step-by-step formula that works every time!
05/16/2016
Conquer Your Fear Of Public Speaking: Lesson 8 - Tips That Could Save Your Life!
Even if you've written the perfect speech and rehearsed it, you could still meet with disaster because of some 'physical stuff'. In this article we talk about high heels, cell phones, Kleenex, bathrooms, soda pop, dinner and jokes!
05/16/2016
Conquer Your Fear Of Public Speaking: Lesson 7 - Script and Microphone
If you get up to the lectern and you realize you can't read your script, you're dead! In this article we make sure you've written a clear, clean, easy-to-read script so that you can't make a mistake. We'll also cover the three types of microphones available to you and which one will suit you best.
05/16/2016
Conquer Your Fear Of Public Speaking: Lesson 1 - There's Nothing Wrong With You!
There is a reason you're afraid of public speaking and you didn't do it! Find out who did it to you and how you can begin to turn it around!
05/16/2016
Conquer Your Fear Of Public Speaking: Lesson 2 - Blame It On Your Amygdala!
Why do we feel overwhelmed and paralyzed with fear when we have to take an important test or give a speech? Blame it on your Amygdala, your brain's fight-or-flight mechanism. There's a way around your amygdala and around your fear.
Sign-up for my E-zine mailing list
Tom Zalaski's Expert Author Email Alerts
Sign up to receive email alerts of Tom Zalaskiís latest articles from EzineArticles.com!